JetBrokers Aviation Charity News
GSLBAA 2nd Annual Aviation Trivia Night on November 8, 2014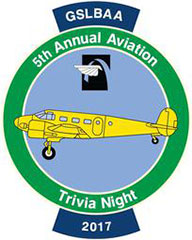 The Second Annual GSLBAA Triva Night will be held on November 8, 2014 at CBC High School located 1850 De La Salle Drive (I-64 near I-270) in St. Louis County, Missouri.

For table reservationscontact Ashley Holmes at 314-551-1936. All proceeds from the event will benefit for two great St. Louis-based charities: Wings of Hope and GSLBAA Educational Foundation. The event features a silent auction, raffle items, and includes: beer, soft drinks, set ups and sandwiches.

Doors open at 6 pm.
Questions start at 7 pm.
Visit the Greater St. Louis Business Aviation Association (GSLBAA) website for more information.
GSLBAA Educational Foundation
Scholarship available for Missouri/Illinois students
The GSLBAA Educational Foundation Scholarship Committee will select exceptional, deserving students residing in Missouri or Illinois. To apply for a scholarship, qualified applicants must fill out an application and submit it by February 15. Scholarships winners will be notified in March. Scholarship funds will be paid directly to the educational institution. Visit GSLBAA Educational Foundation's website for details.
Wings of Hope
Helping mankind search for hope and peace
Starting in 1962, Wings of Hope has been helping the poor and needy worldwide to reach peace and hope. Projects range from healthcare to education, sustainable food and water, and community projects. For 50 years thier only agenda was to listen to the needs of the poor and help them achieve their dreams. In 46 countries around the globe and in St. Louis, Wings of Hope extends the hand of human kindness to teh impoverished and marginalized citizens of the world. Visit Wings of Hope website for additional information.