Business Aircraft Market News
What's Your Dassault Falcon Jet Worth Today?
By Jeremy Cox - Vice President
Download "What's Your Dassault Falcon Jet Worth Today?" PDF as published in AvBuyer Magazine in May 2017.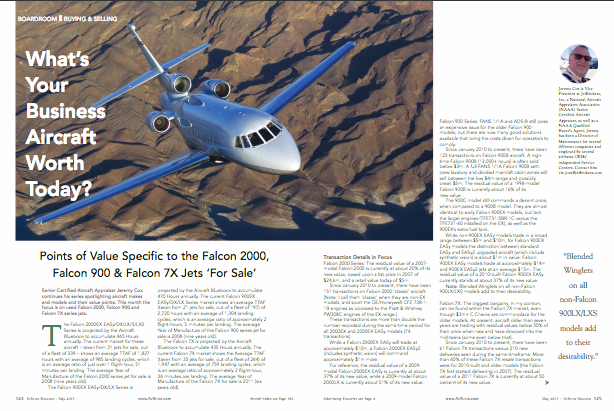 Points of value specific to the Falcon 2000, Falcon 900 & Falcon 7X jets 'For Sale'
Senior Certified Aircraft Appraiser Jeremy Cox continues his series spotlighting aircraft makes and models and their value points. This month the focus is on used Falcon 2000, Falcon 900 and Falcon 7X series jets.
The Falcon 2000EX EASy/DX/LX/S/LXS Series is projected by the Aircraft Bluebook to accumulate 465 Hours annually. The current market for these aircraft – taken from 31 jets for sale, out of a fleet of 339 – shows an average TTAF of 1,827 hours with an average of 985 landing cycles, which is an average ratio of just over 1 flight-hour, 51 minutes per landing. The average Year of Manufacture of the Falcon 2000 series jet for sale is 2008 (nine years old).
The Falcon 900EX EASy/DX/LX Series is projected by the Aircraft Bluebook to accumulate 470 Hours annually. The current Falcon 900EX EASy/DX/LX Series market shows an average TTAF (taken from 21 jets for sale, out of a fleet of 197) of 2,720 hours with an average of 1,304 landing cycles, which is an average ratio of approximately 2 flight-hours, 5 minutes per landing. The average Year of Manufacture of the Falcon 900 series jet for sale is 2008 (nine years old).
The Falcon 7X is projected by the Aircraft Bluebook to accumulate 435 Hours annually. The current Falcon 7X market shows the Average TTAF (taken from 33 jets for sale, out of a fleet of 264) of 1,947 with an average of 759 landing cycles, which is an average ratio of approximately 2 flight-hour, 36 minutes per landing. The average Year of Manufacture of the Falcon 7X for sale is 2011 (six years old).
Transaction Details in Focus
Falcon 2000 Series: The residual value of a 2007-model Falcon 2000 is currently at about 20% of its new value, based upon a list price in 2007 of $24.6m, and a retail value today of $5m.
Since January 2010 to present, there have been 151 transactions on Falcon 2000 'classic' aircraft. (Note: I call them 'classic' when they are non-EX models, and sport the GE/Honeywell CFE 738-1-1B engines as opposed to the Pratt & Whitney PW308C engines of the EX range.)
These transactions are more than double the number recorded during the same time-period for all 2000EX and 2000EX EASy models (74 transactions). While a Falcon 2000EX EASy will trade at approximately $10m, a Falcon 2000EX EASy2 (includes synthetic vision) will command approximately $1m more.
For reference, the residual value of a 2009-model Falcon 2000EX EASy is currently at about 37% of its new value, while a 2009-model Falcon 2000LX is currently about 51% of its new value.
Falcon 900 Series: FANS 1/1A and ADS-B still pose an expensive issue for the older Falcon 900 models, but there are now many good solutions available that bring the costs down for operators to comply.
Since January 2010 to present, there have been 123 transactions on Falcon 900B aircraft. A high-time Falcon 900B (13,000+ hours) is often sold below $3m. A full FANS 1/1A Falcon 900B with crew lavatory and divided main/aft cabin zones will sell between the low $4m-range and possibly break $5m. The residual value of a 1998-model Falcon 900B is currently about 16% of its new value.
The 900C model still commands a decent price, when compared to a 900B model. They are almost identical to early Falcon 900EX models, but lack the larger engines (TFE731-5BR-1C versus the TFE731-60 installed on the EX), as well as the 900EX's extra fuel tank.
While non-900EX EASy models trade in a broad range between $5m and $10m, for Falcon 900EX EASy models the distinction between standard EASy and EASy2 upgraded aircraft (which include synthetic vision) is about $1m in value. Falcon 900EX EASy models trade at approximately $14m and 900EX EASy2 jets at an average $15m. The residual value of a 2010-built Falcon 900EX EASy currently stands at about 37% of its new value.
Note: Blended Winglets on all non-Falcon 900LX/LXS models add to their desirability.
Falcon 7X: The biggest bargains, in my opinion, can be found within the Falcon 7X market, even though $3m+ C Checks are commonplace for the older models. At present, aircraft older than seven years are trading with residual values below 50% of their price when new and have dropped into the mid-teens (some even below that).
Since January 2010 to present, there have been 61 Falcon 7X transactions versus 210 new deliveries seen during the same timeframe. More than 60% of these Falcon 7X resale transactions were for 2010-built and older models (the Falcon 7X first started delivering in 2007). The residual value of a 2011 Falcon 7X is currently at about 50 percent of its new value.
Specific Upgrades/Modifications
To conclude, following is a list of Appraised Value Add-Ons for each Falcon model discussed within the scope of this article. These are my numbers, not the numbers from the value guides…
Falcon 900:
Dash 5 BR Engine Conversion - $500,000
Falcon 900B/C/EX:
Forward Crew Lavatory - $130,000
Main Cabin Divider (excluding curtains) - $100,000
Enhanced Vision System - $130,000
ADS-B Out - $100,000
CPDLC (must have SATCOM) - $150,000
Universal EFI-890 with FANS 1/A+/WAAS LPV - $750,000
Honeywell EPIC CDS/R (Elite II) - $850,000
Pro Line 21 - $1,250,000
Primus II EPIC EASy II (Full Boat) - $2,500,000
Blended Winglets (install by DFJ for LX Designation) - $600,000
Falcon 2000/EX:
Eight Pax Interior - Classics only (Deduction -$500,000)
25 Parameter DFDR - Classics only (Deduction -$150,000)
Heads-Up Display - $175,000
Enhanced Vision System - $130,000
ADS-B Out - $100,000
CPDLC (must have SATCOM) - $150,000
Pro Line 21 - $1,250,000
Primus II EPIC EASy II (Full Boat) - $2,500,000
Blended Winglets (install by DFJ for LX Designation) - $600,000
Falcon 7X
EASy II Upgrade (Full Boat) - $1,000,000
Heads-Up Display - $175,000
Jet-A Consumption Amounts To 25%+ Of An Annual Operating Budget, But I Remember The Days When It Was Closer To 50%, On-Up!
By Jeremy Cox - Vice President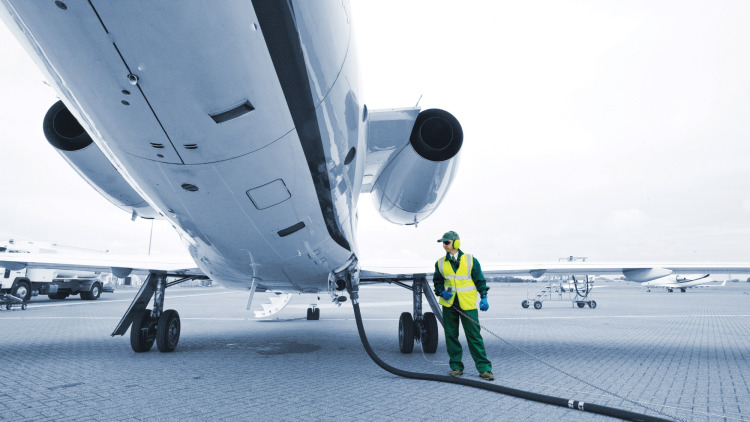 An article written by Curt Epstein was published by Aviation International News, today. It was 'Headlined'…"FUEL PRICES STAY AT DECADE-LONG LOW POINT. Mr. Epstein reported in his article that "…the price of Jet-A last year was the lowest in a decade, averaging $3.31 a gallon nationwide (25 cents less than in 2015), according to industry fuel data provider Fuelerlinx. The decrease corresponds with data from the U.S. Energy Information Administration, which shows a 30-cent year-over-year decline in the refiners' wholesale per gallon price for U.S. kerosene-type jet fuel, which at an average of $1.29 a gallon was the lowest in a decade."
I remember that in 2007/2008, the average price for Jet-A was $7+ a gallon.
Mr. Epstein's article prompted me to look back through old articles that I have had published over the years, and I came up with a piece that was published in 2005, which read: "…According to the 'CIA World Statistical Handbook', out of a total of 212 countries in the world, only 98 of them are actually oil producing nations. Interestingly virtually all of the 212 countries elect to charge a fuel use or consumption tax. According to a recent report published by the French Government titled 'The oil industry 2004' the report states that the year: 2013 as "…the time of maximum production or 'Peak Oil'" That would mean that the world's oil consumption would reach its highest point around 97 million barrels per day (mbpd). Certain pundits believe that 'Peak Oil' will actually occur at the end of this decade (2010), while even others believe that it has already occurred. The Organization of the Petroleum Exporting Countries (OPEC); who account for more than 39% of all crude oil production, and whose member countries hold more than 2/3 of the world's oil reserves, recently reported that they had opened their spigot 'wide-open' and that global oil extraction currently amounts to 85 Million Barrels of oil per day. It doesn't take much time after thinking about these figures to realize that fuel is not going to drop in price by very much from this point on. So $7.00 per USG Jet A1 delivered into wing at a New York airport, will probably be considered extremely good value in another decade from now."
Obviously, my prediction of $7.00 Jet-A per gallon was only realized two-years after writing that article, but today I certainly deserve to eat craw, because I could not have predicted that in 2016/17, we would only be paying $3.00 Jet-A per gallon.
Mr. Stephen Moore, an economist who served as an economic advisor to President Trump, during the run-up to the Presidential Election, wrote late last year, in the Wall Street Journal: "…Some naysayers also think that the big reason the price of oil is down is that the economy is down—so a low price isn't a good thing. Yes, there are good and bad reasons that oil prices fall. The good reason is the supply rises. The bad is a weak economy. We don't want the world to go into a depression to keep oil prices low. But more supply is always a good thing because it reduces the fundamental economic challenge of scarcity. I also keep hearing that low energy prices are bad news for stocks. Maybe in the very short run. But remember: The two biggest booms in the stock market in U.S. history were in the 1980s and 1990s. In both of those decades, oil prices fell and fell and fell. The worst decade since the Great Depression for stocks was the 1970s, and that was when the oil price soared from $3 to $30 a barrel. We can also put aside the inane idea that America is running out of oil. It was only a few years ago that Barack Obama said in a speech at Georgetown University: "The United States of America cannot afford to bet our long-term prosperity, our long-term security, on a resource [oil] that will eventually run out." Paul Krugman wrote in 2010 that "commodity markets…are telling us that we're living in a finite world." And they both have Nobel Prizes! In reality, America isn't running out of cheap oil, we are running into it. If we continue to promote cheap, abundant and reliable made-in-America energy, the U.S. within six years can become not just energy independent, but the energy dominant country in the world. That's spectacularly good news for not just our national economy, but our national security as well."
What You Should Know About Avionics Appraisals
Download PDF as Published in AvBuyer Magazine
Understanding the True Value of a Retrofit or Upgrade on a Jet
Jeremy Cox draws on his experiences as an aircraft auditor to highlight how the devil is most definitely in the detail when it comes to appraising avionics systems…
The Equipment List located in the Aircraft Flight Manual (AFM) often is incorrect because it has not been updated to reflect removed and/or retrofitted equipment and system components. Such has been my experience when called upon to audit aircraft for appraisal or resale.
It is probable that avionics systems and component changes documented on FAA Form 337s are also found in the AFM to support the Supplements at the back of the manual. Sometimes component changes can be found in superseded Weight and Balance Reports in the same AFM. My 'go-to' and most important source of avionics equipment 'make and model' data, however, is the airframe log books. The only reliable way to find everything is to sort 'page-by-page' through every log, carefully jotting down when installed equipment is listed in an entry.
It is important to work from Back-to-Front (i.e. start by reading the 'Latest-and-Greatest' entries and work back from there). If you perform your audit from Front-to-Back you will be constantly scratching through noted equipment that was subsequently replaced by a newer system or component.
I am a great advocate for Computerized Aircraft Maintenance Programs (CAMP) used to track the status of an aircraft. However, as with anything that requires human data input, the adage "garbage in; garbage out" is key. Therefore, I avoid collating my equipment data from any tracking program reports that are provided to me.
A History of Mandated Upgrades
The avionics system changes and upgrades viewed through the log books usually read as though I was reading a regulatory mandate calendar. It's usual to see a mid-1980s to mid-1990s aircraft have a Traffic Collision Avoidance System (TCAS) installed as an aftermarket item.
As TCAS progressed into today's Airborne Collision Avoidance System (ACAS-II), I see these same TCAS systems getting upgraded to meet the hybrid surveillance requirements that will become law on 1/1/2020 through ADS-B Out.
Next came Satellite Communications Systems as well as Ground-based Airborne Telephone Communications Systems. It also became possible to receive broadcast television while in-flight. Many of the Satellite-driven systems had immense pricetags for those that wanted to enjoy this new technology at the time.
With the new millennium came the requirement for Terrain Awareness Warning Systems (TAWS), which were mandated for 3/29/2001 and required existing systems to be interfaced with a GPS system to ensure position accuracy.
All transatlantic-capable aircraft as well as Europe-based aircraft then had to have their Communications Transceivers upgraded to extended frequency ranges, commonly known as '8.33 kHz spacing'. Onboard VHF Navigation Receivers also had to receive an internal modification making them immune to non-aviation FM broadcast signals; a modification commonlyknown as 'FM Immunity'.
As the skies of the world became crammed with more aircraft and the safety risk of keeping the aircraft that travelled the most crowded routes separated, next came the need for increased accuracy of on-board Air Data Systems and Altimeters to comply with the performance requirements of Reduced Vertical Separation Minima (RVSM), which was introduced system-wide in the US on 1/20/2005.
Today, the hot avionics change items include Electronic Flight Instrumentation Systems (EFIS), Cathode Ray Tube (CRT) replacements with Liquid Crystal Displays (LCDs), Future Air Navigation System (FANS), ADS-B and In-Flight Internet Connectivity, via a Wi-Fi Router.
Specific Airplane Avionics Appraisal
Above, we touched upon the fact that often a significant modification or upgrade to avionics equipment is poorly annotated in the aircraft records, and the system status can only be confirmed by either a model number or part number.
If you miss any of these variables during your audit, the resulting 'error in value' will amount to tens-, if not hundreds-of-thousands of dollars.
As an aircraft broker, I always advise clients that they will recover 50-80% of the cost of an avionics upgrade if the outlay makes the aircraft more attractive to buyers and improves its market position, with the intent of making theirs the next aircraft to sell.
Yet, as an appraiser, I must make the following statements regarding avionics upgrades:
Avionics systems and individual equipment pieces (especially if they are highly desired and/or considered to be necessary, like Controller Pilot Data Link Communications (CPDLC), ADS-B, High-Speed Internet driven Wi-Fi, etc.) could add 100% of their total cost to the appraised value of the aircraft. It is important to understand that, in the case of compliance equipment, this value increase shall be driven down to 'zero' as soon as the mandated deadline has been passed;
Avionics are no different than any other piece of equipment. They will be depreciated over time, both by accountants and by the values determined naturally by the resale market - driven by demand and availability;
Aircraft Bluebook provides an avionics value depreciation chart listing the percentage of new values corresponding to equipment age (from 60% of new list price after one year, down to 30% after five);
Avionics values quoted by the price/value guides, unless specified, always provide the 'new – retail, uninstalled' price for each system or component;
New aircraft order/options price lists provide the best insight leading to more accurate base values that can be used in an appraisal;
Aftermarket installation quotations are important in establishing base values, but there are always installation compatibility issues specific to each aircraft that are extremely hard to translate against another aircraft being appraised. The whole point of an appraisal is to provide both an accurate and credible value for the authorized recipient of the report;
The appraisal process that does not evaluate and assign individual values to systems and components is not reliably accurate; there are very few 'standard equipment' aircraft in existence;
If an aircraft is parted-out and sold piece-bypiece, the prices realized on 'serviceable-as-removed' avionics gear will literally be 'pennies on the dollar', worse than any numbers quoted by a depreciation chart, unless there is a strong demand due to a lack of availability in the marketplace.
The bottom-line 'gotcha' with avionics appraisal, therefore, is that all provided documentation must be minutely examined to guarantee that the actual equipment installed is what is appraised and valued.
Appraising an outdated system that was removed years previously is indeed an example of unprofessional, shoddy appraisal work that is (in my opinion) unforgiveable.
Buying & Selling: Why An On-Site Jet Appraisal Is So Important
Download PDF as Published in AvBuyer Magazine
The Certified Appraisal versus a Desktop Valuation
There are dangers in cutting corners on an aircraft appraisal. Jeremy Cox draws on some of his real-life appraisal experiences to highlight the value of getting the job done properly...
There are multiple reasons why an aircraft owner might need to know what his aircraft is worth on a specific date, including: Making the decision to sell; wishing to put the aircraft up as collateral against a loan; divorce settlement; an estate sale; tax settlement; insurance claim; or charitable donation.
Except for the situation of making a 'sales decision', all the other events listed require that the selected appraiser provide the owner with a certified appraisal instead of merely a market valuation.
The Essence of a Certified Appraisal
When an aircraft is beign donated, a certified appraisal submitted to teh US Internal Revenue Service (IRS) must meet specific requirements for it to be accepted. IRS Publication No. 561 states:
The weight given an appraisal depends on the completeness of the report, the qualifications of the appraiser, and the appraiser's demonstrated knowledge of the donated property. An appraisal must give all the facts on which to base an intelligent judgement of the value of the property.
The appraisal must not be given weight if:
All the factors that apply are not considered
The opinion in not supported with facts, such as purchase price and comparable sales, or
The opinion is not consistent with known facts
The appraiser's opinion is never more valid than the facts on which it is based; without these facts, it is simply a guess.
The opinion of a person claiming to be an expert is not binding on the Internal Revenue Service.
To prove 'demonstrated knowledge' of an aircraft that is the subject of the appraisal, the appraiser must physically see and evaluate the aircraft and all its logbooks, on-site and in person. In the unfortunate instance where the subject aircraft will be written-off by an insurance company due to the total-loss of the aircraft, it is still required that all the logbooks are reviewed before an appraisal report can be written.
The National Aicraft Appraisers Association (NAAA) asserts that "The walk around examination, and inventory of the aircraft, followed by the thorough study of the logbooks, and records, contribute approximately 85%-90% of the data in our written report. The other 10%-15% of our work is outside research."
A sales specification that has updated hours, landings and equipment hand scrawled on it, along with a handful of images, does not come close to being a suitable substitute for an on-site inspection. It is impossible to apply a rating to the condition of the paint and interior by only examining an on-screen, or printed image, in-place of seeing the actual aircraft in person.
Why Have An Inspection?
Rarely will a sales specification ever mention the existence of any damage history, or accurately assess current maintenance and inspection status. The only sure way to determine the overall condition of the aircraft, and ultimately its value, is by inspection. The logbooks are a critical part of the determination process.
An excellent example of why an on-site inspection and log book audit is so vital to accurately report on an aircraft happened in an audit of a Dassault Falcon 900B I was involved with recently. The Falcon 900B was in the late stages of a work scope at a major MRO, and I was provided with a sales specificaiton that was produced by an aircraft broker who had sold this aircraft a little over a year before the date of my audit
I downloaded a CAMP Status Report after being granted 'read-only' access through my CAMP-Online account. If I had utilized this supplied specification and CAMP Report instead of creating my own, I would have been very wrong on multiple equipment and inspection status issues.
For example, Collins TDR-94 Transponders had reportedly been installed, when in reality Honeywell MST-67 Transponders were the actual units onboard (installed over 10 years before). Furthermore, the 'C Check' date reported was later than the actual sign-off and release for return to service (another potentially very costly error). And while doing the audit, I even found two engine logbooks among the archives that did not belong to the subject aircraft...and never did at any time in its history...
This was not an isolated incident. Other examples over the years have include:
A Learjet 'wide' cargo door (reported) versus the narrower executive door (actual);
Citation CJ2 '3-tube EFIS' (reported) versus '2-tube' (actual);
Falcon 20=5 thrust reversers (reported) versus 'none' (actual);
Gulfstream GV crew-rest compartment (reported) versus 'none' (actual);
Global Express with a 'heads-up guidance system' (reported) versus 'provisions-only', i.e. an empty box above the #1 pilot's head (actual).
I could go on and on with tales of aircraft that were reported as 'perfect', only to find otherwise in the aircraft's logs.
The bottom-line: if the certified appraisal that you paid for and used to satisfy an official requirement was created without an on-site inspection and audit by an appraiser, even with disclaimers, it is questionable adn probably unreliable.
At JetBrokers We Don't Just Sell Jets
Download PDF as Published in GA Buyer Magazine
Since our formation in 1993 JetBrokers has sold our fair share of piston aircraft. For all aircraft entrusted to us by the owner to sell, our expert sales team follows the same time-tested techniques that help us sell aircraft quicker than the market average.
JetBrokers has sold over 700 aircraft to date. Our sales process begins with personal service. A JetBrokers aircraft sales team member will visit your aircraft and evaluate its condition and maintenance history before considering advertising it for sale. During the visit, the log books are examined page by page to build up a picture of the aircraft and its past life. All avionics equipment is listed and photographs are taken to create full specifications and marketing materials. Only after getting our hands dirty looking over your aircraft to clearly understand its worth, JetBrokers is finally ready to put the aircraft on the market.
At JetBrokers your aircraft isn't simply advertised online and in print. Although advertising is a very important part of what we do (see examples of JetBrokers ads in this edition of GA Buyer and also on AvBuyer.com) to garner the widest possible audience for your aircraft-we reach out to our network of industry colleagues and private buyers as well promoting your listing on social media and JetBrokers' website. Our dedicated sales team in the UK covers continental Europe. We have representative offices in Switzerland, the Middle East and India. Our US colleagues provide extensive coverage of North America including a team member who specializes in Mexico.
Working with aircraft owners to accurately price their aircraft for sale, starts with marketplace research. By providing ongoing feedback to enquiries received about the aircraft, pricing expectation and other aircraft sales, JetBrokers continues the marketing process until the aircraft is sold.
The secret to JetBrokers success in the general aviation marketplace it is our intimate knowledge of both the aircraft we are selling and the marketplace for the aircraft. Hard work and research are the key to our success.
Once a buyer is found for the aircraft, JetBrokers stays with the aircraft from the Pre-Purchase Inspection (PPI) all the way through to delivery to the new owner. Our attention to detail ensures smooth and successful transactions.
All this effort must come at a pretty steep price, right? No. JetBrokers gets paid when we sell your aircraft. This ensures that our goals and yours are truly aligned. Our business model ensures that aircraft owners get the best price for their aircraft in the right timeframe.
JetBrokers excels in selling aircraft and helping our clients buy the right aircraft. Clients use our services to navigate a safe path around the pitfalls that await an unwary aircraft buyer. From initial aircraft viewings to technical log reviews, JetBrokers helps out in many ways including organising a suitable PPI, sourcing insurance quotes and finding hangar space.
The services we offer to piston engine aircraft owners is exactly the same as the services we offer to turbine engine aircraft owners. If you are looking to sell your aircraft or are thinking about your next acquisition, give us a no-obligation call. It's worth repeating-JetBrokers doesn't charge a single penny up front, we only earn a fee if our sales team sells your aircraft.
JetBrokers in the UK and Europe JetBrokers UK is based at Biggin Hill airport. Home to numerous piston engine aircraft and historical warbirds, Biggin Hill shows its split personality by also serving as a gateway to London by hosting bright and shiny corporate jets. At JetBrokers we love anything that flies -so Biggin Hill is a good home for us!
Our UK sales team consists of Adrian Munday, Brendan Lodge and Stephen Mitchell. Stephen specialises in helicopters and Brendan is more than happy to talk you through how aircraft finance works and who might be best placed to offer you a loan. Peter Collins is our very own experienced test pilot (Empire Test Pilot School, ex-RAF Harrier and Sea Harrier pilot, ex-Red Arrows leader) who has flown over 10,000 hours in 118 different types including gliders, fixed wing, rotary wing and military jets. If you have a technical question about flying, Peter is your man. If you are interested in the Folland Gnat we have listed for sale, have a chat to Peter; ex-Red Arrows himself, he can give you the inside track on this wonderful example of British aircraft history.
JetBrokers in North America
North America is where the JetBrokers story started back in 1993 and today the company, which is headquartered in St Louis has offices in Chicago, Denver, Detroit and Tampa. Recently Roberto Muniz was hired as VP-Sales for Mexico and Latin America.
JetBrokers Around the World
JetBrokers has representative offices in the Middle East and India.
Current Stock
In this issue of GA Buyer, you will find listings for three King Air aircraft (C90, 200 and 350), a Piper Meridian, a Turbo Commander, an Aviat Husky, a Beech Duke, two Cessna aircraft (a C210 and a C310) and an AW109S Grand helicopter.
If you would like us to sell your current aircraft or help you buy your next aircraft, we would be very pleased to talk you through our services in more detail. Thank you for taking the time to read about our company.
Aviation News
CL604 Pilot Sentenced for Operating While Intoxicated
16 October 2017
ainonline.com
Fitzgerald was sentenced to 12 months and one day of prison also, fined $5,500 and given three years of supervised probation upon release.
Mississippi Airport Completes Sale of FBO
16 October 2017
ainonline.com
When it awarded a five-year management lease on the facility in 2012, the Tupelo Airport Authority noted it wished to exit the FBO business.
Flight Attendant Launches South Korean Bizav Caterer
16 October 2017
ainonline.com
Young Park has seen the paucity of catering options in South Korea, ahead of the Winter Olympics, and decided to do something about it.
The Piaggio Aerospace P.180 Avanti has the stunning appearance of an aircraft from the future
12 October 2017
ainonline.com
Cactus Aero develops simpler and lower cost mobile emergency kit for cabin crew.
Global Jet: Finance, Lease Demand To Rise
12 October 2017
ainonline.com
The company identified current economic realities and the risk of reduced residual values for pre-owned aircraft as driving these trends.
Canada's Skyservice Adds Aircraft Brokerage
11 October 2017
ainonline.com
The managed fleet is now at 70 aircraft.
Flight Key: Coordinate Your Flight Department
11 October 2017
ainonline.com
A new collaboration platform promises to organize and simplify your organization's flight operations
Motorized Wheelchair Unit Navigates Airstairs
11 October 2017
ainonline.com
Battery-powered unit weighs less than 90 pounds.
Hawker Pacific Second Shanghai FBO Gets CIQ
11 October 2017
ainonline.com
While business aviation activity is increasing in China, AsBAA is focusing on Asia as a whole with various regional chapters being formed.
Desert Jet Eyes More Third-party MRO Work
11 October 2017
ainonline.com
The company seeks to leverage experience from own fleet.
StandardAero Expands Houston PT6A Service
11 October 2017
ainonline.com
e services will enhance the company's offerings to operators of King Air, Pilatus, TBM, and Cessna Caravan aircraft.
AllProtect Offers Surface Covering
11 October 2017
ainonline.com
The first-time exhibitor is marketing a line of covering fabric to protect sensitive surfaces.
Textron Introduces ProMaintenance for Operators
11 October 2017
ainonline.com
ProMaintenance is a turnkey package that considerably eases the maintenance management burden for operators.
Textron Introduces ProMaintenance for Operators
11 October 2017
ainonline.com
ProMaintenance is a turnkey package that considerably eases the maintenance management burden for operators.
Gogo Demonstrates Avance L5 Advantage
11 October 2017
ainonline.com
During a demonstration flight, Gogo showed off the higher speed of its Avance L5 air-to-ground connectivity system.
JetSet Interiors Intros New Seats and Veneer Process
11 October 2017
ainonline.com
Texas-based company adds to its refurbishment protoflio
Piaggio Spotlights Expanded Support Options
11 October 2017
ainonline.com
Programs are designed to benefit both in-service fleet and new operators.
Pentastar, PIA Offer Low-Utilization Ownership Options
11 October 2017
ainonline.com
The two companies are teaming up to broaden business aircraft ownership option.
Signature Touts International Improvements
11 October 2017
ainonline.com
The company provided an update on the operations at some of its far-flung locations.
OneJet to Add CJ4s to Fleet
11 October 2017
ainonline.com
Bizjet operator to take up to 10 pre-owned Citation light jets per year for its expanding network
GDC Technics Readies Live TV for VIP 787
11 October 2017
ainonline.com
GDC Technics is partnering with Boeing on installation of live television aboard a VIP 787.
Safran Planning Fix for Silvercrest Compressor Issue
11 October 2017
ainonline.com
The Safran Aircraft Engines Silvercrest developed a new problem during the flight testing, which will delay the Falcon 5X program.
Argus Launches Operational Excellence Program
11 October 2017
ainonline.com
rgus International is giving flight departments an opportunity to further improve in safety and other areas.
VistaJet Sees Strong Growth Since Entering U.S. Market
11 October 2017
ainonline.com
The worldwide operator says quality is the key to its services, with 72 owned aircraft with common branding.
Signature, Air BP Ink Carbon Offset Deal
11 October 2017
ainonline.com
Starting in 2018, fuel purchasers using the Air BP Sterling Card at Signature's U.S. locations will have the fuel offset via BP Target Neutral.
Safran's Bizjet APU On Track for 2017 Certification
11 October 2017
ainonline.com
Unit is flying on the Bombardier Global 7000 and undergoing parallel testing
Jetex, CFly To Partner on First FBO at Brazil's Guarulhos
11 October 2017
ainonline.com
Under the terms of the 15-year lease agreement, Jetex will manage the facility as its third location in Latin America.
Honeywell Announces Cockpit Upgrade Offerings
11 October 2017
ainonline.com
Honeywell is expanding its Primus Elite cockpit offerings for Bombardier, Cessna, Dassault, Embraer and Fairchild-Dornier aircraft.
Garmin Continues Upgrade Programs, Expands Campus
11 October 2017
ainonline.com
When new aircraft sales are relatively flat, growth comes from upgrades.
Av8 Flexes Its PMA Muscles
11 October 2017
ainonline.com
The Houston-based MRO is debuting a new division focusing on engineering, certification and manufacturing FAA-approved replacment parts.